Eco-friendly, high vibrational chocolate.
Made in Jersey by Maria with only the purest, healthful and organic ingredients from the earth. All of the chocolates are dairy free, gluten free, vegan, and are sweetened with coconut palm nectar and 'Sweet Freedom' instead of refined sugar. We also give chocolate making workshops!
WE ARE BACK
Its been a fun and intense journey (as it can only be with Kali Ma) resurrecting my chocolate baby after 3 years for the world to come and delight at again.
This time around I've gone for a bit of a revamp! Vamp being the word as the boxes are a sexy burgundy and lots of gold trimmings on the boxes and bags too.  The boxes will contain some VERY decadent raw chocolate vegan truffles. Its about time our little island had some real bespoke raw chocolates to be eaten and savoured.  Finally. I'm a little exhausted though.  I now have a beautiful girl and a lot less time than before so its all been a bit of a whirlwind.  Interspersed with lots of Yoga Nidras and a few good friends coming to hang out with my girl, I've actually managed to get something done other than playing playdough and dancing around the living room with Suki chanting GOBINDAY MUKANDAY.
Not only am I a bit excited about selling my chocolates this weekend at Simply Spring, I'm also releasing an Organic Lip Butter which is just too mmmm for words.  Seriously.  Come and try my chocs and lips butter, I'll have samples out for you all.
Chocolate Love and Kali Ma Light to you all xxx
My photos aren't great, I have to get a posh camera now right but I'll post them very soon y'all.
Made with Raw Cacao – The Benefits
Unheated Cacao contains over 300 nutritional compounds, antioxidants, essential minerals and the love molecule PEA which is known to create a feeling of euphoria resulting in insatiable desire!
Cacao beans contain 10,000 milligrams (10 grams) per 100 grams of flavonol antioxidants. This is a whopping 10% antioxidant concentration level! This makes cacao one of the richest sources of antioxidants of any food. Yum!
Research has also demonstrated that the antioxidants in cacao are highly stable and easily metabolised. Cornell University food scientists found that cacao powder has nearly twice the antioxidants of red wine and up to three times the amount contained in green tea. It has also been shown, in small amounts, to lower blood pressure.
Cacao and dark chocolate boost antioxidants; however, studies indicate that milk/dairy products specifically block the absorption of all the great antioxidants in chocolate!
Aphrodisia
Chocolate truly is food for the heart due to its magnesium, antioxidants, love chemicals and esoteric properties. We have often heard that "chocolate opens the heart" – which is actually true as it serves to improve blood flow by increasing dilation of the brachial artery.
Chocolate is also the symbol of sensuality, pleasure, and sexuality. Some writers have claimed that 50% of women prefer chocolate to sex! Chocolate is the gift to all lovers. Chocolates are always given as love offerings. A box of chocolates is one of the most common gifts for Valentine's Day. Cacao, because it is unadulterated, has even stronger love energy. In ancient Aztec wedding ceremonies, the bride and groom would exchange 5 cacao beans with each other.
The Ingredients and flavours
Only the purest, highest quality, raw, organic and natural ingredients are found in Kali-Ma Chocolates:
Cacao Paste*, Cacao Powder*, Cacao Butter*,  Vanilla, Coconut Palm Sugar*
*Raw & Organic
Why Are They Special?
Research has indicated that Refined Sugar contributes towards many diseases in our modern world. Kali-Ma uses COCONUT PALM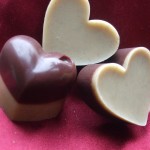 SUGAR and SWEET FREEDOM (concentrated apple, carob and grape syrup) and Date Syrup for sweetness instead of refined sugar.
Currently available in these exciting flavours:
Dark and Naked, Hint of Orange, Peanut Ganache, Moreish Mintys, Sweet Rose, Amaretto Love, Coffee, Raspberry Ganache, Gorgeous Ginger.
Loving our Earth
Being packaged in recycled boxes means that they are contributing towards the care and well-being of our beautiful planet. Bags are made from pure plant cellulose and compostable! Please recycle the boxes again!
Who is Kali-Ma?
Do not mess with her.  She means business. Kali is the powerful Tantric Goddess of Time. She is known as 'the black one' and is seen as a powerful force of nature. She is the fountain of every kind of love which flows through the earth through women and was the ocean of blood at the beginning of the world. She has been said to be the primordial mass from which all life arose and the mother of chocolate!
How are the chocolates best stored?
In summer they are best kept in the fridge but please eat at room temperature for the best flavour with a nice warm drink so your mouth is warm and ready to break down the many layers of beautiful flavours.
Where can I buy Kali-Ma??
Kali-Ma can be found in some local fayres this summer
They can also be ordered by email at mariaearthbeauty@gmail.com or by telephone on 07797 832400.
Can these Chocolates make me happy?
Perhaps, but as happiness really only comes from within, I always recommend that you also fill your life with fun, laughter and silliness.
Who eats Kali-Ma?
Classy people. Like Tracy Noble. "I adore Kali-Ma, I have one every evening and have even managed to maintain a steady weight loss since I discovered them." (A true Kali-Ma devotee!).
Help.  I think I'm addicted!
Well there are much worse things to be addicted to, so relax and smile a chocolatey smile.