Saturday 20th April 2013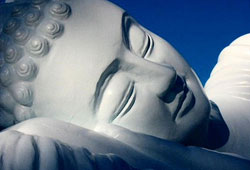 We sleep for a third of our lives. Mindfulness of Dream and Sleep allows us to make use of that time and gives us the tools to train our minds, reprogram our habits and to enter into a friendship with every aspect of our psyches, all while we're sound asleep. By using the best of both Tibetan Buddhist and Western dream-work techniques Mindfulness of Dream and Sleep offers a uniquely holistic approach to lucid dreaming with the aims of psychological growth, mind training and nocturnal spiritual practice!
This workshop includes an overview of the history, science and practice of lucid dreaming from both the Western psychological and Tibetan Buddhist traditions, instructions on how to maintain awareness into and out of sleep, and teachings on learning "how to lucid dream". Lucid dreaming is an important precursory skill to the Tibetan tradition of Dream Yoga and these teachings offer a practical way to learn this incredibly beneficial skill.
This workshop is suitable for both complete beginners and seasoned dream explorers
Please note, this day is a pre-requisite for the 'Going Deeper' day on Sunday 21st April, and is also a great refresher for those that have attended Charlie's workshops before (who will also be entitled to a reduction in price!)
About Charlie Morley:
Charlie received the traditional "authorization to teach" from Lama Yeshe Rinpoche in 2008 and was asked to teach by renowned meditation teacher Prof. Rob Nairn who described him as "the most authentic practitioner of lucid dreaming and dream yoga teaching in Europe". Charlie has been a self taught lucid dreamer since the age of 16 and since then he has run retreats and workshops around the world, co-created the "Mindfulness of Dream and Sleep" program and given the ever first talk on lucid dreaming at the well known "TED" conference.
Cost: £55
Returning dreamers from any of Charlie's previous workshops pay only £50
Venue: The Isis Centre
Times: 10-5pm
Food: Please bring food to share
To book please email: maria@earth-beauty.com for BACS transfer details or send cheque payable to 'Earth Beauty', 12 Conway Street, St Helier, JE2 3NT.  Or telephone Maria: 07797 832400.  Or Paypal barnytrouble@hotmail.com Please advise when payment has been made.