I believe that taking care of our wellbeing, inner healing processes and encouraging our dreaming potential are key ingredients for a happy and fulfilled life.  I also believe we can maximise this effect by finding the right person to witness and support us on this journey.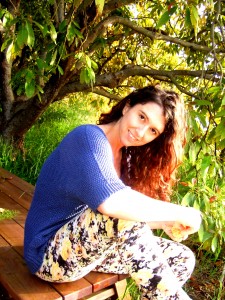 I opened Earth Beauty in 2004 and have spent over 25 years investigating our energy system, biology and capacity for healing through complementary therapies and metaphysical techniques. The path of bringing my own health and wellbeing into balance, after experiencing a lot of pain and disharmony in my own body and life, has been part of the inspiration in being able to share this knowledge and help enable others to healing and wellbeing.  The other part is that I am very passionate about facilitating people to find their own tools to achieve wellbeing and release from suffering.
BODYWORK THERAPIES, ANCIENT PHILOSOPHIES and MINDFULNESS
I have studied many different Massage techniques, Reiki Healing, Reflexology, Seiki Healing, Aromatherapy, Natural Nutrition, the groundwork of Ayurveda, Chinese medicine, the Chakra System of the body, the spiritual gains and healing capabilities of Lucid Dreaming (enhanced greatly by the teachings of Charlie Morley),  TRE techniques (Trauma Releasing Exercise), Mindfulness and Buddhist based Meditation practices and conscious movement and somatic practices to liberate ourselves from dis-ease.
THE POWER OF ESSENTIAL OILS
As young woman full of passion for healing ourselves the gentle and natural way, I became an aromatherapist in 1995 after feeling consistently let down by the medical profession. This was a very exciting time for me as I had also recently qualified as a massage therapist and reflexologist and answers to my long term health issues actually felt possible.  These days I am teaching classes and assisting people with 1-2-1 support with Essential Oils. Read more here
LIFE COACHING IN LIFE TRANSITIONS AND FOR TRANSFORMATION
I am available to coach you to your happiness and success and create a life that enriches you.  Behind many highly successful people is a life coach, helping them carve their way out of their life path to their fulfilment. When we have the support we need, I believe we can truly flourish!
FOOD TRANSFORMATION PROGRAMME and FOOD INTOLERANCE TESTING
Our society is suffering a crisis of digesting food! This is closely linked to us having developed food intolerances from a weakening digestive system.  Your digestion is everything to your good health! I learnt that by improving my digestive issues and eliminating food intolerances, I could once again feel well, light and energised. I now use the Food Detective Food Intolerance Test for clients, which delivers results in less than an hour, and I have created a 3 month plan called the 'Food Transformation Programme' which includes this test and gives you a tailor made programme including recipes, vital information to improve digestion, and also has options to include life coaching support to completely turn your digestion and health around.  It is based on years of holistic nutritional study and influence from Ayurveda and Chinese Medicine.
WILD EARTH DANCE
In recent years I discovered the exhilaration, healing and liberation that can be gained through dance, after finding the School of Movement Medicine to whom I am eternally grateful and still strongly connected to. I was amazed to experience dance as a modality for personal liberation and release from suffering and to find out what an important pathway to transformation and healing it can be, that spirals outwards from our core to the great web of all of life. Opening up an avenue of conscious movement in Jersey', and sharing it with our local community has been wonderful, and there is a consistently growing call for this movement of transformation on Jersey as people become more curious to discover and express their true selves inside. Conscious dance is a most perfect portal for this and led me to greater depths in self realisation and healing than I believe I could have done without it.  Over the last 7 years, I have been blessed to host amazing teachers in Jersey to teach Movement Medicine, 5 Rhythms and Soul Motion – all powerful forms of 'ecstatic' 'conscious' dance.
CONSCIOUS ECO-ENHANCING LIVING
A few years back I learnt to be a facilitator of the  'Awakening the Dreamer' Symposium, created by the Pachamama Alliance, whose aim is 'to bring forth 'an environmentally sustainable, socially just and spiritually fulfilling presence on our planet.' This wonderful work which serves to enable people to find their own authentic response to our current global crises was an amazing experience for me and a movement that I wanted to help grow. Symposiums can be held when requested so please get in contact to arrange.  I believe that the next step for us all, and the only way we are going to survive as a species is if we dare to feel into our own hearts, look at where our true joy lies, pull together our most creative parts of ourselves into community as one, and stand up for what we want-  letting go of any beliefs we may have including that each of us can't make a difference.
JERSEY IN TRANSITION
I'm involved with 'Jersey in Transition' and I love this locally growing movement of beautiful individuals coming together and finding their creative response to the warnings we are getting about the destruction that we have caused on our planet.  Find them on their active facebook group Jersey in Transition Facebook Page