This is a free form movement /dance class, inspired by music by allowing our bodies to move freely without judgment or concern 'for the "grace" or beauty of the dance.  It's an inner/outer journey of moving meditation and develops a direct body-mind-spirit connection, letting your body and inner guide be your teachers and healers.
In this dance, we learn to cultivate presence with our own energy, and upon discovering our own dance within, we use the movement that comes and the energetic experience to release stuck patterns in our body, emotions, mind and spirit.
This is an empowering practice.  When we learn to really trust our body and the wisdom that moves through the LIFE in our bodies – not just in this class but in all aspects of our life – we see that all of  life is an improvised dance and we become empowered to live from a place of truth and soul integrity, where spontaneity resides.
No dance experience or partner is necessary. It's a perfect outlet for those who think they "can't dance" and for experienced dancers alike. It is free-form, not a structured dance. It is also not a social dance. It is an environment without observers or conversation, where you can feel safe to try new things and push your comfort zone. It is facilitated with invitations from myself to explore movement with specific areas of the body and to explore larger themes as a whole through your movement. Much of the time it is an open dance floor for you to explore different rhythms, patterns of movement and your inner journey.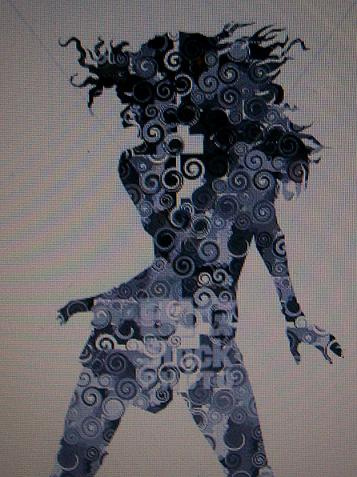 There is much evidence to suggest that creative movement and dance is a key ingredient in a happy, healthy and fulfilled life.  These classes are extremely encouraging, non-judgmental, well facilitated and the soft and subdued environment supports each individual. All walks of life are welcomed, and whilst there is no religious aspect connected to the dance, they do support our spiritual journey in life, whatever inclination or beliefs that we may each sway to. We feel stuck, depressed, held back, and frustrated when our energy is not flowing freely, our dance unlocks these restrictions and opens us up to the possibilities of discovering and allowing our true creative, joyful nature to emerge.
The classes are facilitated by myself, and long term participants often proclaim that these sessions have proved life changing for them.
SISTERMOON
There are also the full moon dance sessions which are very focused on embodiment of the divine feminine.  This pure life giving energy has been repressed in our culture and it is time to embrace and allow this goddess energy to come through and bring with her the healing, connection and vitality she brings.
Try this exciting form of movement for yourself and see why dance has been an intrinsic part of our expression since time began.
See events for upcoming dances.
Hi Maria, Just to say a BIG thank you for having me at the full moon dance. It was a truly uplifting and incredibly FREE-ING experience. It was great to be surrounded by such open and positive people. Love Alex Dessain
Thank you for a lovely relaxing evening last Friday, it was wonderful to be able to dance freely with the calming atmosphere you had created,

Love Terina Le Couillard
I have been on such a journey and I have come so, so far and I wouldn't have been able to have done this without your support and the many beautiful dances and workshops you have lovingly arranged. I am also very blessed  to know so many beautiful souls that have helped and supported me along the way too.A big thank you from the bottom of my heart to you for all that you do.With much love and gratitude to you.

Karina Bisson xxxx

Thank you SO much for the space created……for us to simply BE ourselves in movement…….thoroughly enjoyed my first dance and would love to join you for the next opportunity. Namaste.

Ralette Le Roux Chevalier
What a wonderful dance this evening, excellent music and beautiful people.

Sally Poole xxxxxxx
Thank you so much for holding such a sacred space and allowing us to connect with ourselves and each other….it was fascinating, magical and powerful. It was very special. Johann Liffey
Such a good dance….loved the energy and lovely souls all dancing alongside eachother, special thing

Nikki Grierson xxx

Amazing, amazing dance tonight.. I loved every minute of it! Thank you! :))

Kinga Gutkowska xxxxxxx
Loved this! Thank you so much

Corrine Davey x
Wonderful evening on Friday, thank you.

Sarah Howard
Thank you for having me taking part of such a magical group. Love peace and tranquillity,

David Bras
One of our sacred centrepieces created by Carrie