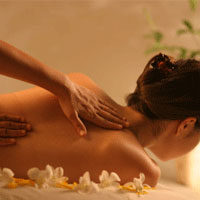 Therapeutic Massage
The benefits of massage are rewarding for your body and also your health. It improves health by acting directly on the bodies muscular, nervous, circulatory and immune systems whilst Serotonin is released in the brain, giving a feeling of comfort, and lifting the spirit.
Maria's deeply relaxing & unique therapies incorporate various massage and acupressure techniques learnt from all over the globe including Swedish, Thai, Deep Tissue and Ayurvedic. Also a qualified Aromatherapist, prescriptive therapeutic oil blends are available to purchase from Maria to heal imbalances in the body.
Aromatherapy massage therapy is aimed to:
Develop and maintain your physical function
Relax tense muscles
Relieve or prevent physical dysfunction and pain
Improve circulation and immune system functionality
Reduce stress
Relax the mind
Improve blood flow
Increase overall feeling of well-being, releasing healing feel good hormones
Choose from:
Full Body (1 hr) Tailored to your needs £60.00
Luxury Head Massage (30mins) £35.00
Back Massage (30mins) £40.00
Neck, Back and Shoulder (40mins) £45.00
Back, Feet and Scalp (1hr 15mins) £65.00
Pregnant ladies also welcome!
NEW: The Star Treatment
An intense immersion of 90mins deep relaxation and therapeutic healing to your mind/body and spirit through the 5 end points of the body: Scalp/Face/Hands and Feet.
A culmination of reflexology to the hands and the feet, acupressure and nourishing massage to the scalp and face with prescriptive aromatherapy oils, ending with reiki/intuitive healing … and a new rejuvenated and revived you. £75
If we all received a regular massage – the world would be a happier place!