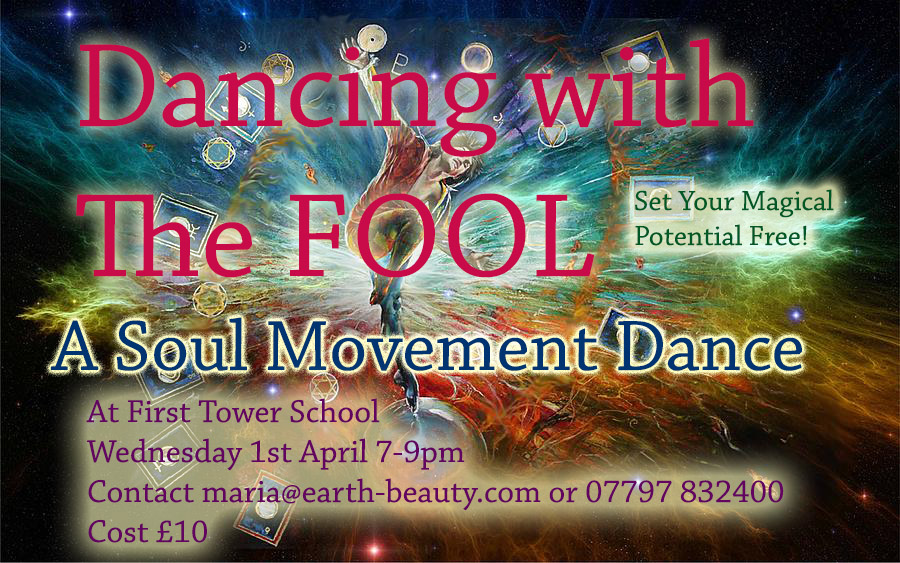 On 'All Fools Day' we are joining together for our monthly Soul Movement class to connect with and embody the archetypal energy of 'The Fool' within ourselves.
Known in the traditional tarot deck, the Fool represent unlimited potential in us all. He trusts blindly that he has all the tools and resources he needs for every possible encounter.  His guardian, his dog is his protector and encourages him into learning the lessons he came here to learn. He is on a lifelong journey to fully express his wild and free spirit.
When we are feeling the positive energy in us, we are trusting and embracing of new beginnings.  He dares to take leaps of faith to take him into higher areas of personal growth and new adventures. He lives free of worry and anxiety of what is ahead.
Within the sacred dancespace of Soul Movement we will journey and experience our inner Fool, through movement, visualisations and intentions. This is a potent space to reconnect to the innate trust in life that we came here to the earth with.
Bring: water, blanket and wear comfy layers.
Everyone is invited, the evening is facilitated clearly and newbies are very welcome as you don't need any experience.
Cost £10 or contact Maria for reductions.
Come early, at 6:30 and join our FREE 30mins of Tai Chi and Chi Gung with Yuri Leitch!!