A Jersey in Transition Presentation by Maria Barnicoat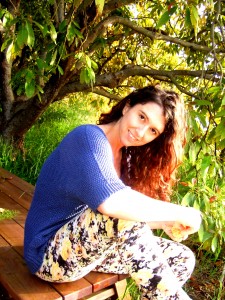 Erich and Barbara, the pioneers of Autarca Permaculture Project in La Palma, Canary Islands are true lovers of life. They have travelled far and learnt that you cannot destroy one part of nature without another being in consequence. They truly live by and embody daily the understanding that ALL IS CONNECTED. Their mission in their project is to re-educate and to help awaken us from our apathy.  Their life's journey has led them to creating an outstanding home and blossoming testament to nature.
After being there this May 2015, I knew I had to share their gift. and what exactly they do there.  Join me, a true permaculture virgin, for a presentation on a place that blew my mind and gave me more hope and passion for our planet. A place that I shall return back to next spring with a crew of excited LIFE enthusiasts to learn their wisdom and expand their work more into the world.
Be inspired, not overwhelmed, by the small changes you can create to make a difference with the smallest plot of land. Learn about an immersion they teach that will give you all the tools to create your own project!
In the true, giving style of 'Jersey in Transition' this evening is FREE.
If you want to find out more about the good work of Jersey in Transition, Nigel Jones​ shall be there an on hand to answer any questions or help you enrol as a member.
Where: The Townhouse Pub, Upstairs, St Helier, Jersey
Time: 7:30-8:30ish
Cost: FREE!