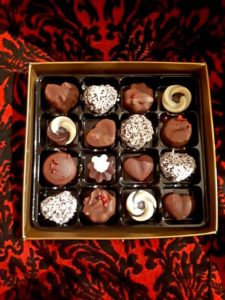 SOLD OUT
I'm delighted to offer these boxes again this year for you and your loved ones who care about quality chocolate.
Kali-Ma is:
ORGANIC
RAW AND VEGAN
DELICIOUS
BEAUTIFULLY PRESENTED
REASONABLY PRICED
HANDMADE WITH LOVE
Available in boxes of 16 or 24.
Chocolates included: Peanut Butter Ganache, Raspberry Ganache, Rich Cocoa Ganache, Salted Chilli and Naked Kali-Ma hard Chocolate
You can pre order below and collect them from THE LITTLE SHOP at 12 Conway Street in town on 20th, 21st or 23rd December.
Hours of opening are 10am to 5.30pm
Ingredients; (all organic except sweet freedom) Cacao butter, Cacao powder, Coconut Nectar, Coconut Milk Powder, Chilli Oil, Vanilla pods, Himalayan Salt and a tiny bit of Raw Cane Sugar. Ganaches also contain Cashew Nuts, Peanuts, Raspberrys, Sesame Oil and Sweet Freedom.