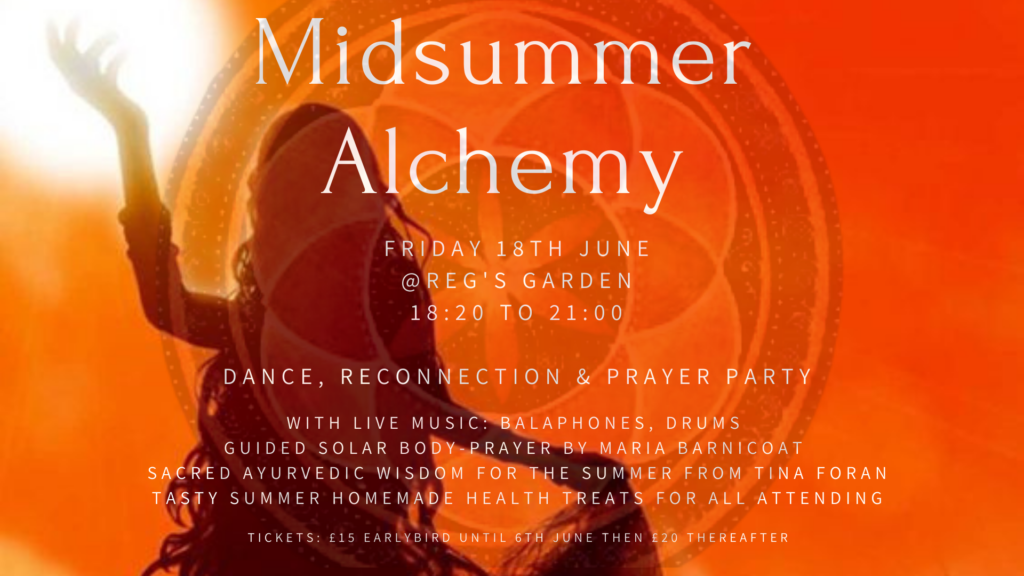 Join us for a playful, prayerful, feast of a celebration for this Summer Solstice on the beautiful grounds of Reg's Garden.
An alcohol free event – this promises to be a solar treat for the heart and soul! With a gorgeous official opening of our sacred space, a deep guided body prayer by Maria, some beautiful live music and drumming from the Balaphones (Maz, Jim and Anita), locally made/foraged delicious drinks and food for everyone attending, and a sharing of sacred ayurvedic wisdom for the summer by Tina Foran.
Summer is brewing! After we've all landed together with a focus on opening our sacred space, we will ignite and feed our innate longing for re-connection through conscious, guided movement into the body with Maria.  Conscious body-prayer dancing in community gives us an other-worldly medicinal portal to melt and heal our hearts, and offers us the courage and possibility to emerge from ourselves, a clearer version of ourselves, fresh from the intention and exhilaration of the movement.
Our lovely Tina will share with us how our inner alchemy can work best for us this Summer. Fire is light, heating and transformative. Keeping our cool is a great medicine with Ayurveda. Tina is a qualified medical Ayurvedic Practitioner and she specialises in the promotion of selfcare for health and well-being. You can find her at https://ayurvedicriver.com/
At the end of our time, we will sit and eat together on the ground (bring savoury food for feast after – we will supply drinks and sweet locally made treats!)
Bring: water, blanket
Wear: comfy layers
Cost: £15 earlybird price before 6th June and £20 thereafter.
Please contact if issues with online payment.
Location: Grassy meadow carpark at Reg's Garden – plenty of parking.
Time: 6:20pm to 9:00pm.
VERY IMPORTANT: Please arrive early to begin on time together
NUMBERS ARE RESTRICTED AND TICKETS MUST BE BOOKED IN ADVANCE, PLEASE BOOK EARLY TO AVOID DISAPPOINTMENT.