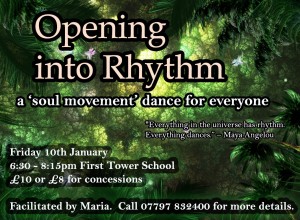 "Everything in the universe has rhythm. Everything dances." – Maya Angelou
One of the most wonderful gifts we can give ourselves this year is to choose to live a life of full expression, heart connection and truth.  Opening ourselves up to rhythm, the rhythm that is always present in ourselves and all of life brings us into a deeper and more fulfilling relationship to ourselves and the world around us. 'Opening into Rhythm in 2014' is a Soul Movement Dance Class for everyone.  Our dance space is a sacred place to discover your inner dancer if you've not yet met them, and a place to reignite and reconnect again and again to your power and strength.
Soul Movement classes are totally free-form movement /dance classes inspired by music and facilitation from the teacher, allowing our bodies to move freely without judgment or concern 'for the "grace" or beauty of the dance.  It's an inner/outer journey of moving meditation, letting your body, heart and soul be your inner guide.  There is much evidence to suggest that dance is an intrinsic part of a healthy community and has been practised since the beginning of time as a way to connect deeper into our potential and the fabric of the magical beings that we are.  New dancers and seasoned dancers from everywhere are invited to join this community.
Maria started these classes after being greatly inspired by Movement Medicine, 5Rhythms and Soul Motion.  Come and see what your inner dancer can offer you.
PLEASE NOTE: This is the last Soul Movement Dance Class to be facilitated by Maria until March!
• Please bring a water bottle, blanket for times of lying stillness and relaxation.
• Dress in easy to move in layers.
• Please arrive through the top entrance in tower road where there is a carpark.
• Cost £10 or £8 for concessions.
• Doors open and music will begin playing at 6:15 for any early arrivals.
Facilitation begins from 6:30pm and is held by Maria.