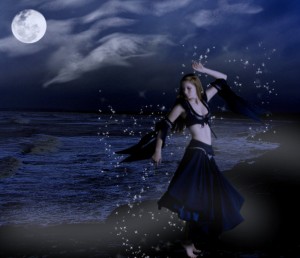 After a very beautiful first women's only full moon dance earlier this month, here is the second one in a series of three for 2013.
In ancient times, women were acknowledged to be earthly manifestations of the goddess, or the divine feminine.  Women embraced their wild natures, their sensuality and their potential for all encompassing acceptance, and their culture supported this in them.  In recent ages, this honouring of the feminine has seemed to diminish completely, with a disregard for women and their power and an over emphasis and encouragement of the masculine energy; the goal fixated, doing, faster, faster, more more more, consuming, progressive, active energy.  In these very recent years, we are finally beginning to see that a world without enough feminine: acceptance, being, feeling, creative expression is a world in turmoil and completely out of balance.
We will journey together through the sacred feminine movement of dance to give space and intention to opening up our feminine natures and potential again!
No experience with this kind of dance is necessary.  Come in whatever physical condition you are in. It is facilitated in a beautiful candlelit hall.  Your body and soul will be inspired by music, suggestions, deep states of induced relaxation and a moving connection to your home, your centre.
• Bring your intentions/prayers/wishes for this full moon • Please bring a water bottle, blanket for times of lying stillness and relaxation. • Dress in easy to move in layers. • Please arrive through the top entrance in tower road where there is a carpark. • Cost £10 or £8 for concessions. • Doors open and music will begin playing at 6:15 for any early arrivals.
Facilitation begins from 6:30pm by Maria.
"It begins with a heartbeat, a breath, a quickening. Out of the still, silent waters of the mystic ocean of eternity, a tiny droplet of light slowly emerges, like the full moon reflected on the water. The doors of your perception swing open and your senses reach out like shining beams of moonlight to embrace the infinite rhythms and expressions of creation. As you relax into the expansive beauty of this universal dance, soothing waves of celestial grace surround and caress you in a never-ending stream of warmth and tenderness. Your heart opens as you feel the gentle touch of the Divine Mother, the supreme light and energy of Divinity, nurturing and enlivening the clear luminous flame of your own immortal spirit." Sharron Rose, Awakening the Divine Feminine.