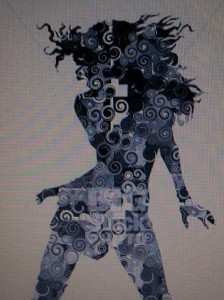 WHY WHY WHY do we dance??
Dancing is healing, free-ing, releasing, fun, opening and softening. Its a great practice for returning back to our bodies and for putting our modern day overactive mind back in its proper perspective.   When we dance we give ourselves permission to express our hearts desires, our longings, our loves, our frustrations, our needs, our heartaches, our expansiveness … and, with practice, we can bring that metaphor into our daily lives to serve us on our path to more freedom and more openness in all of our lives. It opens up the closed petals of tension to reveal our truer natures.
Dancing makes us kinder – because it makes us more aware of our own emotions.  You cannot fool the body because the body knows, and is already holding everything which we have not processed; the suffering we did not fully realise, the hurt we did not allow ourselves to truly feel, the anger that we internalised … and so on ….  and so once we move ourselves and begin to feel the whirl of experience that we carry, we naturally begin to cultivate a sense of empathy and compassion for ourselves which we can consciously (or unconsciously – it will naturally evolve that way) extend out to others.
This leads to dancing being a great connector of people – even those of us who have always felt we didn't fit in (well, my hand is up!) there is always a place on the dance floor for us.  When we move our bodies instinctively, our hearts begin to express their truth with ease.  No-one's dance is the same – amongst the beauty in the individuality of movement, there is a pulsating union, and we cannot fail to see that we are all from the same family!  There is a communication that happens to easily and readily without words – it is truly a relief to simplify the language of the moment into movement and have our hearts more readily accessible to us.
Once we honour our hearts with our expression, we have moved a bit further down the path of freedom.
Last nights return to our bare feet dance classes was a lovely evening!! It was such a great turn out! Fantastic to see so many people in the hall, and so good to be back in a community of movers and groovers again!
Soul Movement Classes are fun, nurturing, connecting and liberating.  They are a fusion of meditations and relaxations on a dance and movement journey back to our centres.  Next Class is on Friday 6th September and held by Maria Barnicoat at First Tower School. Times: 6:30pm (doors open and music starts at 6:15) til 8:15pm.  Bring water, a blanket and wear comfy layers.