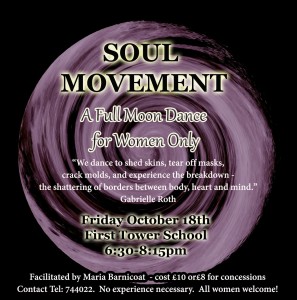 "Once upon a time, in the sacred societies and temples of the ancient world, women were respected and revered as the living embodiment of their divine role model, the Great Goddess. Their bodies were seen as sacred alchemical vessels of creation and transformation, as radiant temples of Divinity filled with the vital healing and transformative current of light and energy that ceaselessly pours outward from the Primordial Source of all life. Deeply in tune with the inner world of spirit and the outer forces of nature, women were known as the Keepers of the Sacred Mysteries." Sharron Rose
At this magical time of the month, at the full moon, we will join together to dance our truth and dare to reconnect fully with our divine feminine which is so often squashed down in our modern times.  This essence of us is when we are at our most intuitive, at our most creative, at our most loving, nurturing and accepting of all we are.
No experience with this kind of dance is necessary.  Come in whatever physical condition you are in. It is facilitated in a beautiful candlelit hall.  Your body and soul will be inspired by music, suggestions, deep states of induced relaxation and a moving connection to your home, your centre.
• Bring your intentions/prayers/wishes for this full moon • Please bring a water bottle, blanket for times of lying stillness and relaxation. • Dress in easy to move in layers. • Please arrive through the top entrance in tower road where there is a carpark. • Cost £10 or £8 for concessions. • Doors open and music will begin playing at 6:15 for any early arrivals.
Facilitation begins from 6:30pm by Maria.
"It begins with a heartbeat, a breath, a quickening. Out of the still, silent waters of the mystic ocean of eternity, a tiny droplet of light slowly emerges, like the full moon reflected on the water. The doors of your perception swing open and your senses reach out like shining beams of moonlight to embrace the infinite rhythms and expressions of creation. As you relax into the expansive beauty of this universal dance, soothing waves of celestial grace surround and caress you in a never-ending stream of warmth and tenderness. Your heart opens as you feel the gentle touch of the Divine Mother, the supreme light and energy of Divinity, nurturing and enlivening the clear luminous flame of your own immortal spirit." Sharron Rose, Awakening the Divine Feminine.