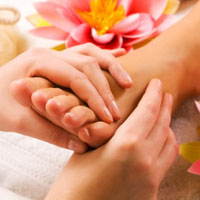 Maria is a qualified Reflexologist based in Jersey.
This ancient holistic therapeutic treatment is performed on the feet (or hands). Through stimulating specific points, imbalances are observed and treated to bring about healing on a deep level to any short-term or long-term problems. A full consultation takes place to ensure the most effective treatment possible for you. Ailments such as depression, back problems, insomnia, infertility & stress are helped by this soothing and deeply relaxing treatment.
What joins the ancients with the modern is the long-established principle that there are energy zones that run throughout the body and reflex areas in the feet and hands that correspond to all the major organs, glands and body parts.
The benefits of reflexology include:
Reduced stress and inducing deep relaxation
Improving circulation
Cleansing the body of toxins and impurities
Balancing of the whole body/mind system
Revitalising energy
Preventative health care
Stimulating creativity and productivity
First appointment lasts 1hour and 15 mins.
£50 (60mins) or £31 for a mini-treatment (30mins)
A wonderful reflexology session. Very relaxing and well worth it. Maria could tell what was going on with my life and helped a lot. Christine Lecrivain – Jersey