Vegan Chocolate Tarte Heaven

Naked Raw Chocolate Tarte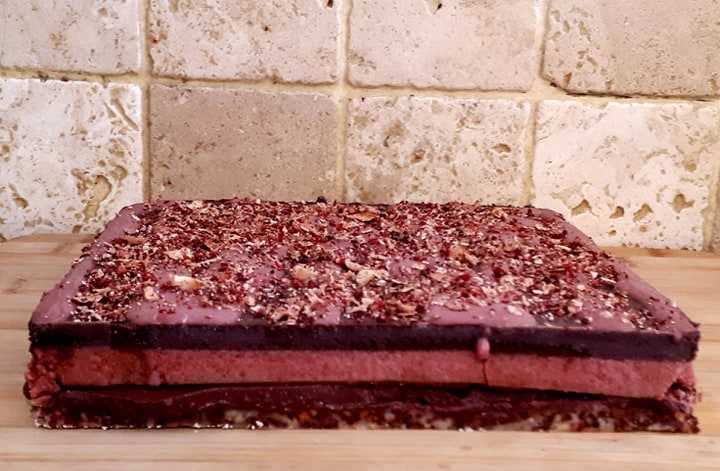 Raspberry Rose Creme Tarte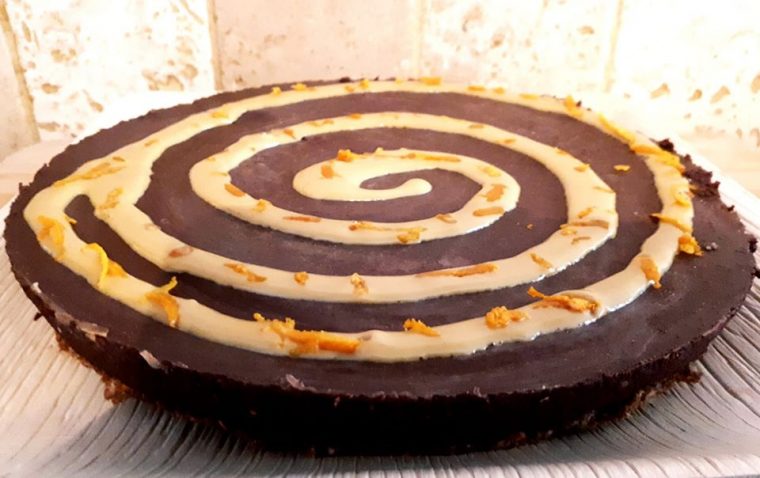 Kali's Chocolate Orange Tarte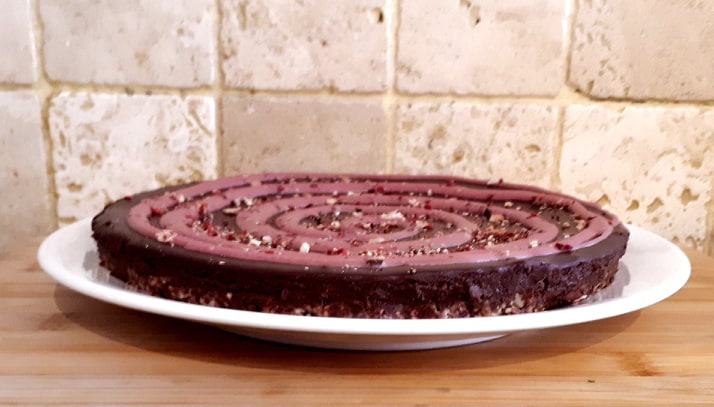 Raspberry Ripple Chocolate Tarte
You can choose the following sizes:
Med/small tarte (9inches diameter) £23.00 for the Naked Raw Chocolate Heaven or £27.00 for the others.
Large tarte/cake (11inches) £30.00 for Raw Chocolate Heaven or £35.00 for the others.
The Naked Chocolate Tarte Heaven has a crunchy/ nutty textured cheesecake base and the topping is a silky smooth chocolate ganache with some chocolate/fruit decoration, but you can expand upon this and order a cake with a yummy flavoured theme as below! Most cakes will contain the basics of the Naked Chocolate Tarte Heaven.
With all tartes you can choose between:
** A paleo base of seeds and dried fruit or
** A crumbly baked gluten free oaty base. However I can cater for most dietary needs upon request.
Naked Raw Chocolate Tarte Heaven Ingredients
Ingredients: Cacao Butter, Coconut Milk, Cacao Powder, Coconut Nectar, Coconut Oil, Pumpkin Seeds, Coconut, Dates, Sunflower Seeds, cacao nibs, Himalayan Salt, Vanilla.
*** ALL MY DESSERTS ARE ORGANIC, GLUTEN FREE AND VEGAN ***
*** INGREDIENTS CAN BE CHANGED AND ADAPTED TO SUIT DIETARY REQUIREMENTS ***
If you fancy ordering one for yourself of a friend/relative here's what you can choose from (they are all predominantly chocolate based – well of course!):
🖤 Naked Chocolate Tarte
The above is £23.00
🖤 Gorgeous Ginger
🖤 Moreish Minty
🖤 Kali's Chocolate Orange
🖤 Amaretto Amour
🖤 Raspberry Chocolate Ripple
The above are £27.00
🖤 Raspberry Rose Creme
🖤 Triple Chocolate Heaven
The above are 4 tiered and luxurious and are £41.00
Fancy something different to the above? Hit me up with an idea you have!
They are all sweetened with date syrup, dried fruit and coconut nectar. The tartes with white chocolate have a little raw cane sugar in. Sweeteners can be changes to xylitol, agave and other requests.
❗Any can be completely nut free if requested.
❗ Also please bear in mind, I am currently working with skeleton prices that may change as I collate the costs of the ingredients and time in preparation for these desserts.
Reviews:
"What a treat … it tastes absolutely delicious! Thank you" Jessica Bartlett (23rd April)
"Tastes absolutely awesome!!" Jo Le Cocq (22nd April)
"Divine" Jenny Yettram (24th April)
EMAIL me here with your requests and desires mariaearthbeauty@gmail.com