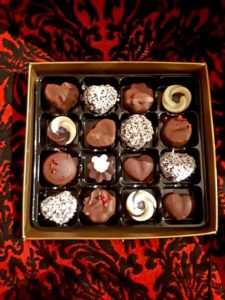 I'm delighted to offer these boxes again this year for you and your loved ones who care about quality chocolate.
Kali-Ma is:
 ORGANIC
 RAW AND VEGAN
 DELICIOUS
 BEAUTIFULLY PRESENTED
 REASONABLY PRICED
 HANDMADE WITH LOVE
Available in boxes of 16 or 24.
Chocolates included: Peanut Butter Ganache, Raspberry Ganache, Rich Cocoa Ganache, Salted Chilli and Naked Kali-Ma hard Chocolate
You can pre order below and collect them from SCOOP in St Lawrence, The Little Shop in Conway Street or Midland Stores in Maufant.
Ingredients; (all organic except sweet freedom) Cacao butter, Cacao powder, Coconut Nectar, Coconut Milk Powder, Chilli Oil, Vanilla pods, Himalayan Salt and a tiny bit of Raw Cane Sugar. Ganaches also contain Cashew Nuts, Peanuts, Raspberrys, Sesame Oil and Agave.
Sorry, now Sold Out